Apple Music
New Feature
Mobile App


UI/UX Design



In this project, Users can learn about the city, the country, and the artists while enjoying music that can relate to their surroundings. Not only do users have access to the knowledge they crave but may have to find elsewhere without this feature, but businesses can also use this feature to promote their music labels, concerts, and events. The artists themselves can get closer to their fans with the functions provided by this feature.s
Figure out what new feature would benefit Apple Music the most.
I quickly realized users ' drop-off points by researching Apple music user behavior, collecting data, and comparing features between the leading platforms. These insights helped me determine how to approach MVP solutions.
Users find it hard to create a playlist according to their personal preferences since the app is not recommending songs they may like.
The suggested songs are too different.
The user interface is not pleasant to use.
Uses will need to rely on other services to find out about the tour details.
I created wireframes for the process of creating a location-based new feature, which makes playlists based on the user's current city and country. Some playlists would include the most trending music, most streamed, local artists, music distinctly popular in the area, local events, and concerts.
I created a Mid fidelity prototype on Figma using the screens I designed and conducted usability testing with four participants. One participant tested the prototype in person, and two participants tested the prototype remotely via screen share.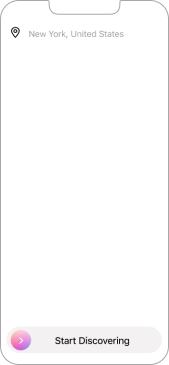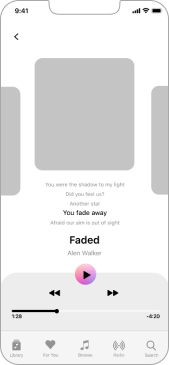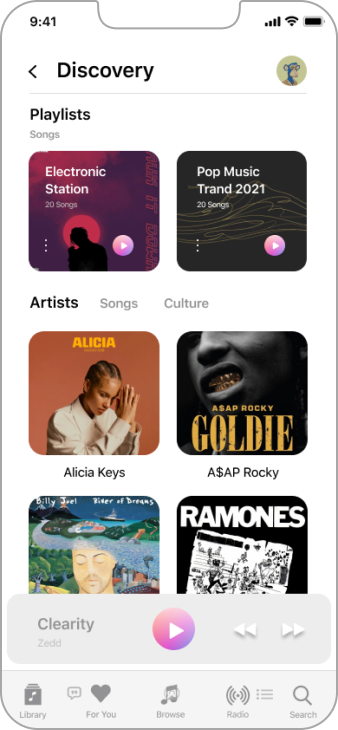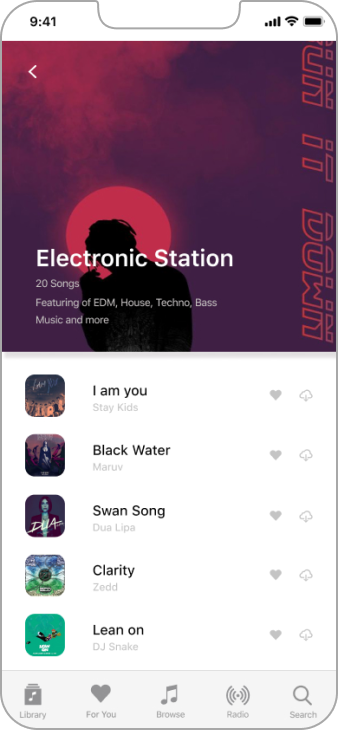 I conducted usability testing with four participants. One participant tested the prototype in person, and two participants tested the prototype remotely via screen share.
Task Completion Rate
100%
Task Error Free Rate
92%
Tasks Goal:
Discover how easily a user is able to brwose the Apple music library,
Check the local even and concerts and add them to the calende
Observe the overall satisfaction the user has when navigating through the prototype.

Uncover any areas of inefficiency, confusion, or difficulty for the user.

---

Feature Overview
The Redesign
Allow location

The process begins by pressing "Allow Location," After User confirm their understanding of the button's action, they tap the location button when they want to give your app one-time permission to access their location.
The Redesign
Songs
"Songs" is the beating heart of Apple Music. It's where Apple Music gets to flex how much it knows about the user by curating playlists and albums based on what the user has "Loved." So right here users are able to see their favorite music based on their location.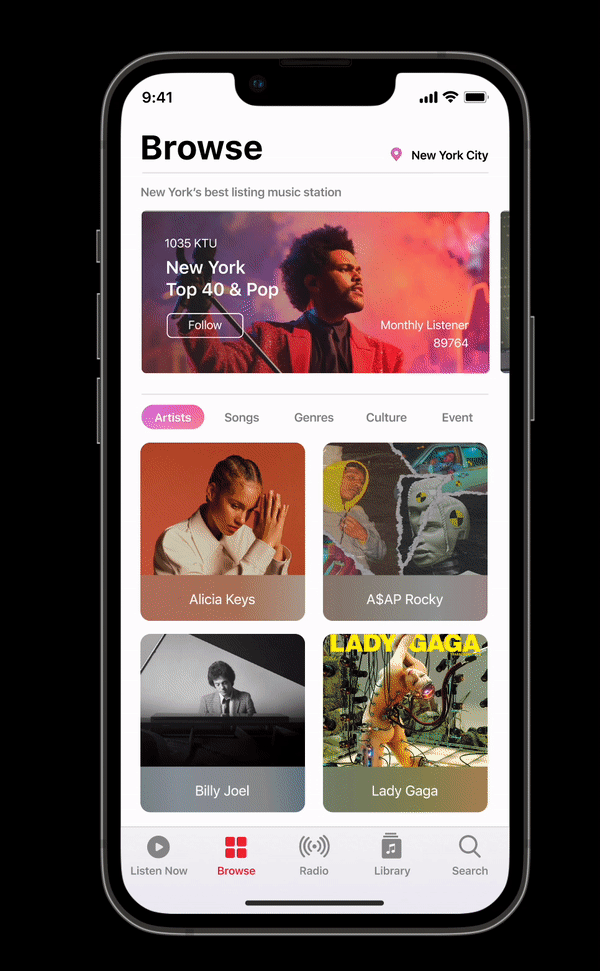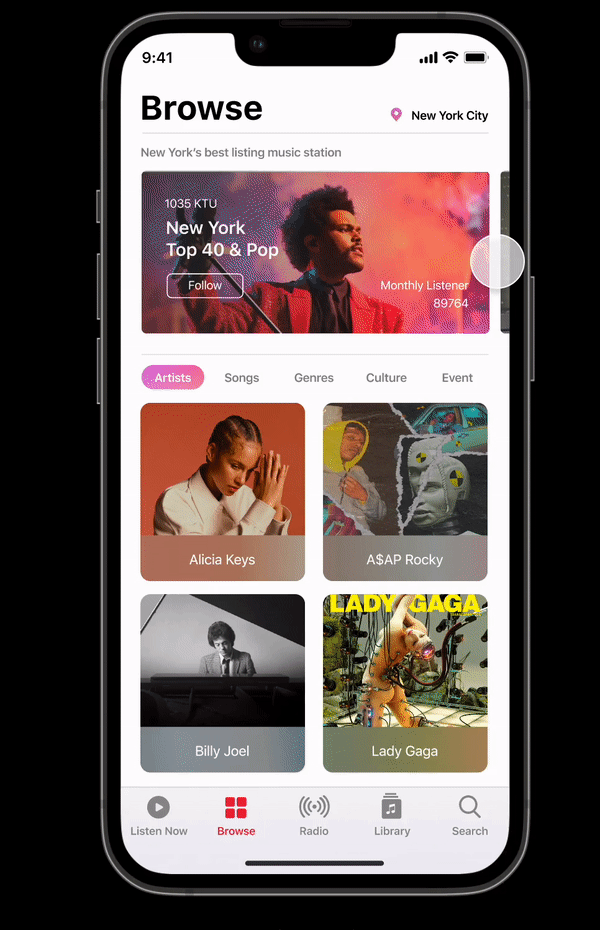 The Redesign
Radio Station
If users want to discover and know more about the city, listening to the most played radio station based on their location is the best way to do it. so, right here, Users will be suggested a list of the most popular local stations.
The Redesign
Events &
Concerts
Users will be able to view these recommendations rather than using a separate application. Additionally, users would be notified of events posted by artists or concerts they follow.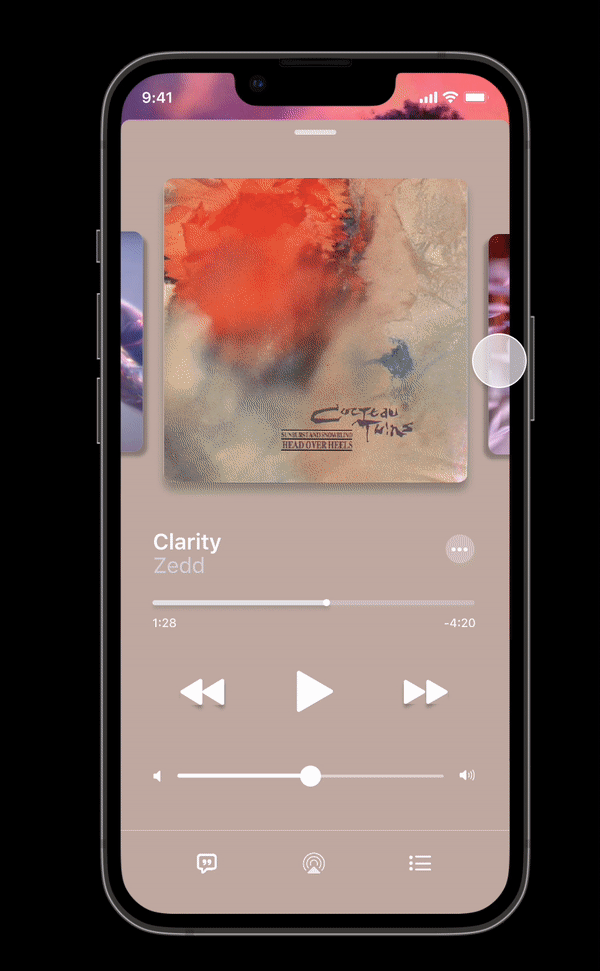 The Redesign
Play Music
Adjacent songs, previous and next, can now be seen and horizontal swipe to switch between playing which is not possible in the current UI. I believe this will grant users more control over their listening experience in an intuitive way.
---

Learnings Reflections & Challenge


This project taught me how to work within the constraints of an existing product and design within a current system, relying on already present design patterns and components. Since users are already familiar with these patterns, breaking them could be a considerable challenge.

One of the challenges I overcame in my research was learning how to understand users' needs without directly asking them, "What do you want this app to do? "because this only leads to wishful thinking and a lot of "if only apps did this" answers. Understanding users' pain points indirectly is a more effective way to understand what problems they need to solve and how best to solve them. In other words, it is to adopt the users' language and make it a part of the product.