The project involved identifying existing problems and designs to redesign their website. Registered users would have their private spaces designed with the idea of simplicity at the core.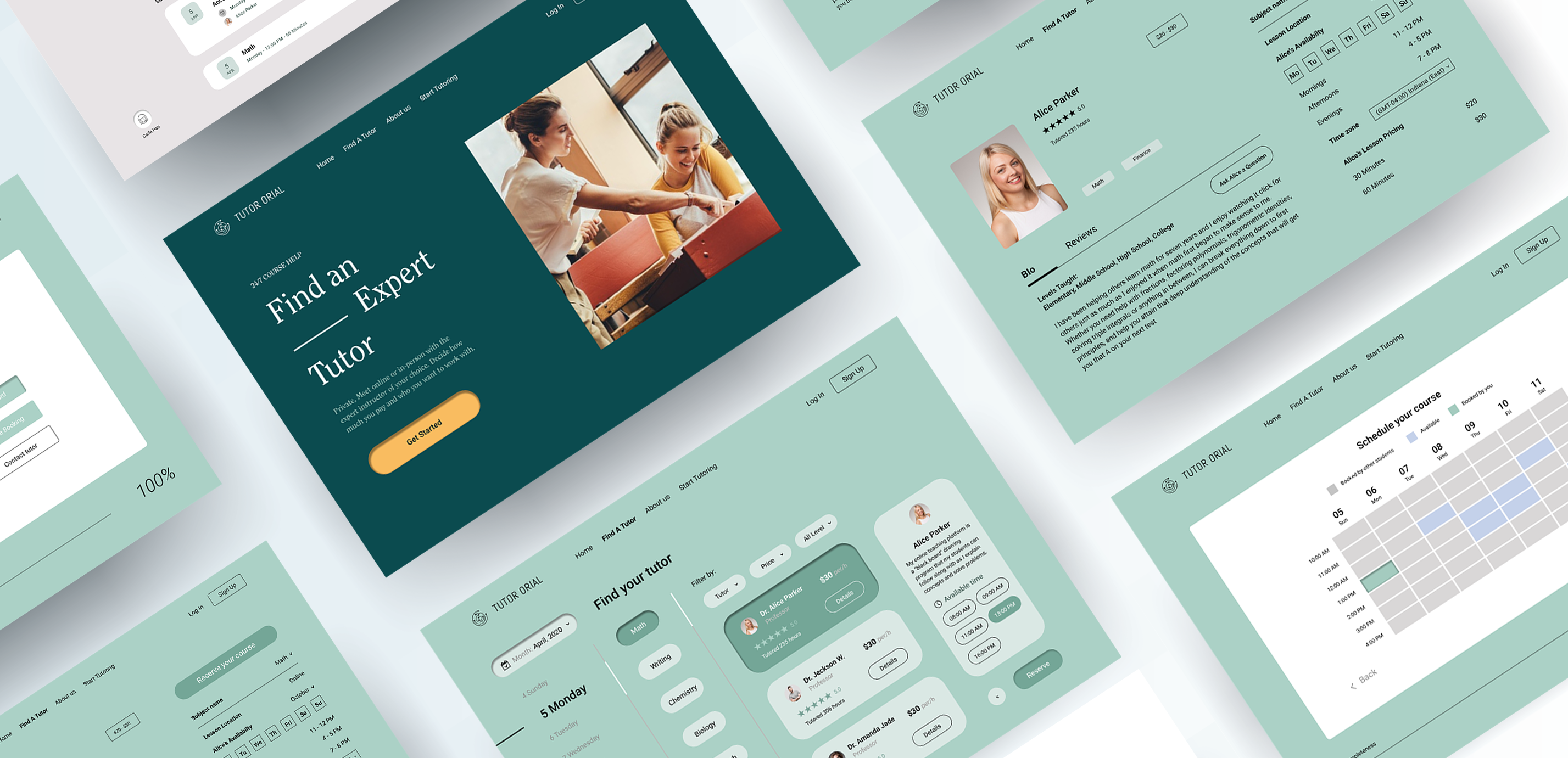 How can we design a more engaging and visually pleasing onboarding experience for new users? This will help draw more trust and security in the brand.
Problems

Tutor Orial has had a low completion rate due to the onboarding process. Currently, its unfriendly design has prevented many new tutors as well as users.




Current flow is somewhat confusing and can be reworked to be more streamlined

The overall experience lacks credibility or authenticity
lots of illustrations and no real images of tutors

Users may feel stuck throughout the booking process as there are no clear "emergency exits"

Asking users for payment information before viewing tutors will create a lot of friction.

There is an opportunity to create a more enjoyable and straightforward experience for new users when signing up and booking their first session
Solution

I approached these problems in a more design-oriented way. After conducting market research, I looked at the three main factors that contribute to a negative user experience, these being complex user flow and lack of design consistency.

Design an end-to-end flow to build a personalized tutor website

Text hierarchies, graphics and images ultimately need to align with the overall look and feel and convey information accurately.
Make sure that the redesigned website is in line with the brand's identity

I started with rough sketch, then slowly fleshing out my idea in to low fidelity prototype.
Based on the feedback, I started to work on the various layout problems., and then started creating a mood board to define the overall visual identity
Synthesis & Color Palette
Through recording these interviewees' feedback and reflections, I have drawn some conclusions on the important points which need to make some further improvements.

Base on the feedback, I plan to make some subtle changes to the dashboard pages, buttons and progress bar so that they can be more friendly to new users.
---
The Redesign
Login Page

In this project Registered users would have their private spaces that are also designed with the idea of simplicity at the core.
The Redesign
Find Tutor

It gives a filters for subject, price, and time.
user will be able to select their tutor based on their schedule.
The Redesign
Reserve

Users will be able to read tutor's more detailed information and reviews from other student here, and reserve the course.
The Redesign
Confirmation
Users will be abel to see the total detail of course and scheduled information at confirmation page.
The Redesign
Dashboard

Students' schedules can be seen immediately on the dashboard, and they will have access to course materials through the website.
---
Learnings Reflections & Challenge


I did research on the project Process Doc, and I successfully designed some high-fidelity prototypes. The reason why I designed this project lies in I want to make the information logged in a more convenient way. I have learned that designing a project needs lots of professional knowledge and continuous practice. The project mainly focuses on the perfection of the tutoring website.

It was fun that I learned some useful skills in how to complete some useful sketches quickly. Meanwhile, I also get a piece of good knowledge about the significance and necessity of group discussion, in which each member of the team can freely exchange their ideas and thought.